West Asia Trading & Engineering Pte Ltd
Importers, Exporters, Engineering Works, Manufacturers Representative & Commission Agent
No. 1 Kim Keat Lane Singapore 328858  Tel: +(65) 6250 5676  Fax: +(65) 6252 9890
E-mail: westasia@singnet.com.sg
<![if !supportEmptyParas]> <![endif]>
<![if !supportEmptyParas]> <![endif]>
<![if !supportEmptyParas]> <![endif]>
LAWSON FUSES -
Power Safe Solutions
<![if !supportEmptyParas]> <![endif]>
Lawson Fuses has been an independent business for over sixty years. The company was originally founded in 1938 specialising in the design, development and manufacture of HRC low voltage fuses.
Lawson plays a leading role in formulating fuse standards and specifications through its membership of the relevant committees of BSI, IEC, CENELEC, and other standards organisations. The company has sponsored and participated in many research and development programmes.
Lawson operates a Quality Management System which has been independently assessed and approved by ASTA Certification Services as complying with ISO 9001 and is supported by the issue of Certificate No. 11050. Lawson manufactured fuse-links have been independently certified by ASTA and where appropriate comply with the the rules of the latest ASTA 20 Scheme,which authorises Lawson Fuses to endorse those products "ASTA 20 CERT".
Lawson have built a creditable reputation for the quality of their product.
<![if !supportEmptyParas]> <![endif]>
<![if !supportEmptyParas]> <![endif]>
<![if !supportEmptyParas]> <![endif]>
<![if !vml]><![endif]>

Low Voltage Fuses

Industrial Fuse-Links, Compact Dimension Fuse-Links, General Purpose Fuse-Links, Motor Circuit Fuse-Links, Utility Fuse-Links, Street Lighting Fuse-Links and DIN Standard Fuse-Links.

<![if !supportEmptyParas]> <![endif]>

<![if !vml]><![endif]>

Semiconductor Protection Fuses

Lawson Fuses have introduced a comprehensive range of Hi-Speed Fuse-Links to British Standards. The 240 and 690 volt series comply with the performance and dimensional requirements of BS88:Part 4 and IEC 60269-4.

<![if !supportEmptyParas]> <![endif]>

<![if !vml]><![endif]>

Fuse Holders

Lawson Fuses offer an extensive range of fuse-holder and fuse-link designs. Lawson fuse-holders and fuse-banks are approved to major standards and designed to meet a wide range of applications: power distribution, motor protection, electronic, railway, shipping and street lighting.

<![if !supportEmptyParas]> <![endif]>
<![if !supportEmptyParas]> <![endif]>
<![if !vml]>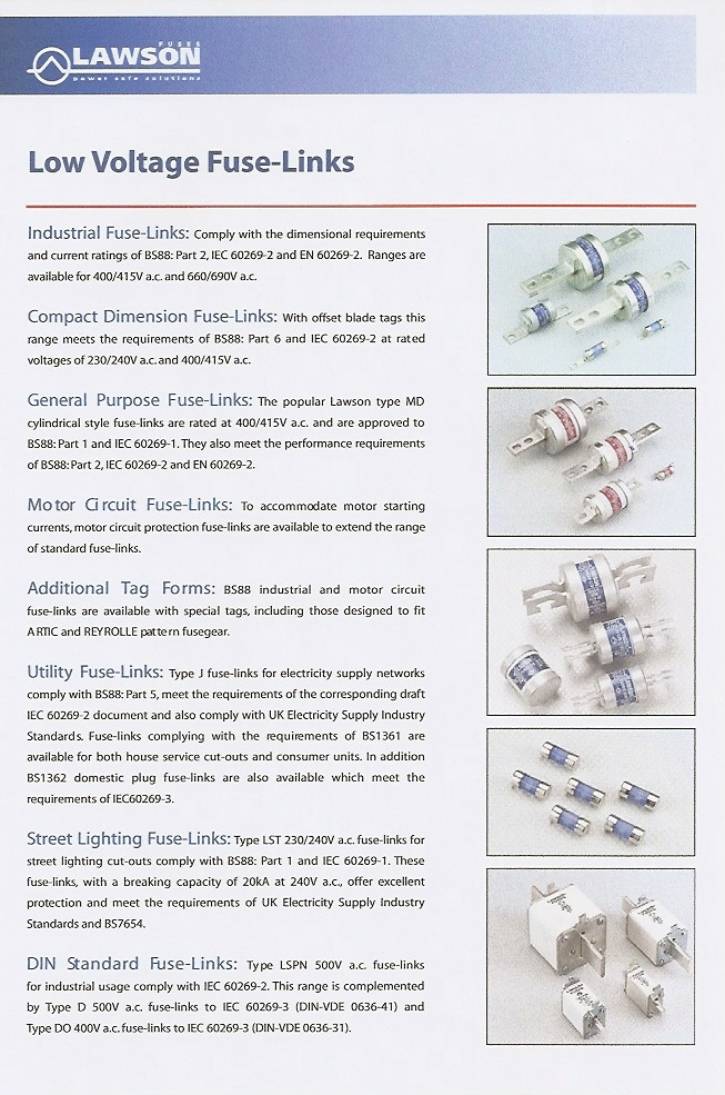 <![endif]>
<![if !supportEmptyParas]> <![endif]>
<![if !supportEmptyParas]> <![endif]>
<![if !vml]>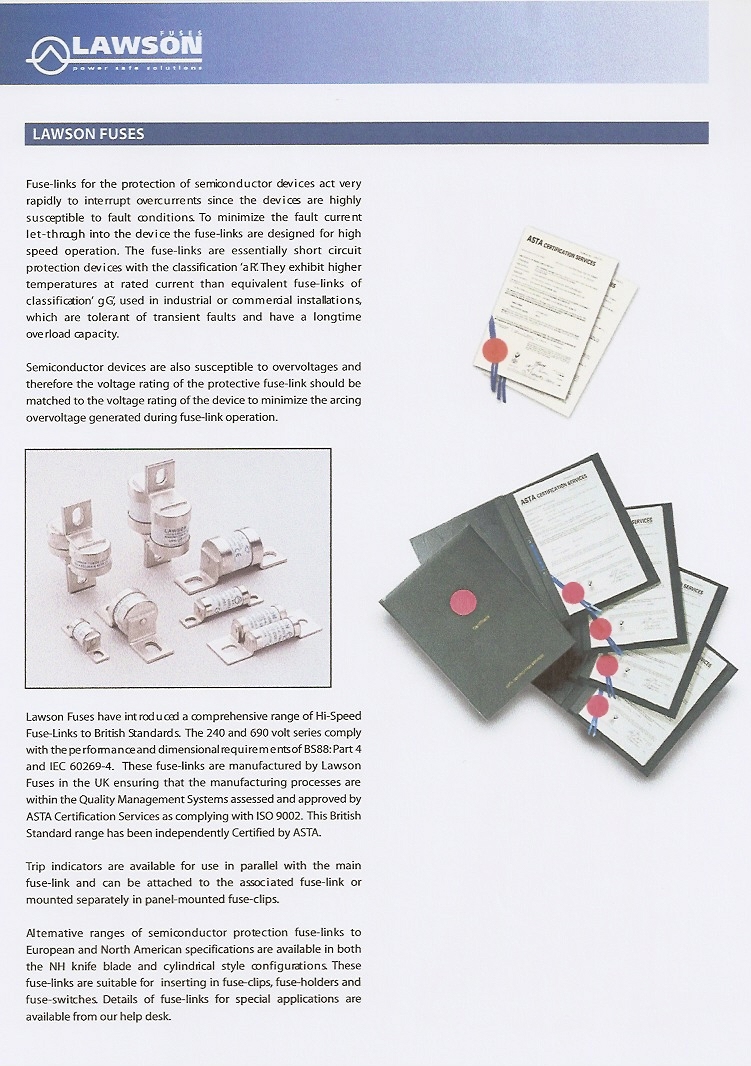 <![endif]>
<![if !supportEmptyParas]> <![endif]>
<![if !supportEmptyParas]> <![endif]>
<![if !vml]>
<![endif]>
<![if !supportEmptyParas]> <![endif]>
<![if !supportEmptyParas]> <![endif]>
<![if !supportEmptyParas]> <![endif]>
<![if !supportEmptyParas]> <![endif]>
½ Home ½ Electrical Test Equipment ½ Medical Electrical Safety Analyser ½ Precision Test Equipment ½ Motor Protection Relays ½ Level Controller ½
½ Cable Locator ½ Electromotors ½ Generators ½ Safety Interlocks ½ Switchgear ½ Transformer ½ AC Voltage Stabilisers ½ Load Banks ½
½ Laboratory Power Supply ½ Power Transmission Equipments ½ Transformer Oil Filtering Machine ½ Fuse Links ½ Cutouts ½
½ Gas Leak Detector ½ Cable Jointing Kit ½ Filter Element ½ Vibration & Pneumatic Controls ½
<![if !supportEmptyParas]> <![endif]>
<![if !supportEmptyParas]> <![endif]>
<![if !supportEmptyParas]> <![endif]>
West Asia Trading & Engineering Pte Ltd
No. 1 Kim Keat Lane
Singapore 328858
Tel: +(65) 6250 5676
Fax: +(65) 6252 9890
E-mail: westasia@singnet.com.sg
<![if !supportEmptyParas]> <![endif]>
<![if !supportEmptyParas]> <![endif]>
<![if !supportEmptyParas]> <![endif]>